As the buzz of Black Friday and Cyber Monday looms large, retailers and e-commerce gurus are gearing up for what promises to be a shopping bonanza.
With everyone jumping on the Black Friday bandwagon, how do you ensure your Woo store stands out?
The secret weapon: strategic and captivating email marketing.
Why Email Marketing is Your Ace for Black Friday Success
In the digital age, email remains a cornerstone of effective marketing. It's personal and direct and has the unique ability to land your message right where your customers are most attentive – their inbox, which should lead them to their carts.
Unlike the unpredictability of search engine algorithms or the limitations of social media ads, email marketing puts you in the driver's seat.
This is especially crucial for special events like Black Friday, where timing and precision are essential.
Crafting Your Black Friday Marketing Blueprint
A promotional email should not only showcase the best Black Friday deals but also resonate with both new and loyal customers.
Plan with Precision: Don't settle for generic offers. A well-crafted plan can make even a modest campaign yield impressive raw results.
Learn from the Past: Analyze successful campaigns. Understand the strategies that drove the success of the big Sephora sales and Bud Light sales, such as types of offers or urgency in the messaging.
Theme It Up: Adopt a unique theme for your campaign. This could range from creative percentage discounts to themed designs that capture the essence of your brand.
Optimize for Different Outcomes: Tailor your email strategy. Try to meet various objectives, whether it's driving sales, growing your email list, or enhancing customer loyalty.
Don't Ignore Cyber Monday: Extend the momentum. Hop on the trend of Cyber Monday offers – another golden opportunity to engage with your customers with fresh offers and creative campaigns.
Captivate with Subject Lines: Make sure it grabs attention. In the ocean of Black Friday emails, your subject line is your first hook, be it a clever play on words or a shocking statement.
Segment and Personalize: Tailor your offers. This could mean exclusive deals for loyal customers, personalized offers based on past purchases, or unique incentives for first-time buyers.
Plant Innovative Offers: Move beyond the typical site-wide discounts. Think creatively – unique offers create memorable experiences.
Use Urgency and Exclusivity: Use countdown timers and limited-time offers. This technique works wonders in converting interest into sales because of the sense of urgency.
Leverage Automation: Tools like AutomateWoo and MailPoet can streamline your email marketing process, making targeted campaigns more efficient and effective.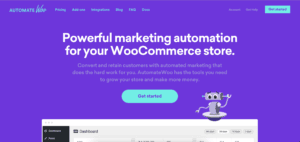 The Secret Ingredient: Personalization and Connection
From showcasing Black Friday offers as the biggest deals of America to providing tips on WooCommerce development, your emails should speak directly to the interests and pain points of your audience.
Why? Because a well-crafted email can turn a casual browser into a loyal customer.
Keeping an Eye on Trends
Check what the Amazon Black Friday deals are and hop on the trend of the best-selling items. Staying relevant is way more complicated during the biggest shopping holiday of the year, so keep an eye out for what the big giants are doing.
Offer something for everyone, from fashionistas looking for the best Black Friday deals to shop sneakers on sale to musicians eyeing the latest Plugin Boutique software.
BONUS: Black Friday Campaign Ideas
If running an e-commerce business would be a competitive sport, then Black Friday is the ultimate showdown.
Use the power of chatbots to automate your sales.
Send compelling email marketing campaigns.
Create a mailing list.
Support your customers using live chat.
Create enticing bundle deals.
Run flash sales.
Use countdown timers.
Prevent shopping cart abandonment.
Run Black Friday ads on social media.
Add compelling product descriptions.
Reuse promotions on Cyber Monday.
Include BOGO (buy one, get one free) or "buy two, get one free" deals.
Offer free shipping and returns.
Offer exclusive access to loyal customers.
Sell Black Friday gift cards.
You can start using many of these strategies by trying out UserSense, an all-in-one customer service solution for e-commerce businesses.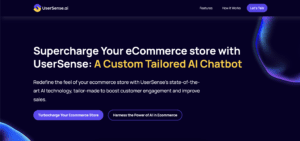 For more AI solutions for your online e-commerce business, make sure to check out our blog post on industry-specific AI enhancements for Woo businesses.
Final Thoughts
By blending strategic planning with creative execution, your Black Friday marketing campaign can be a game-changer for your Woo store.
Whether you're choosing or not to "super target" specific audiences, the key is to make each email feel personally crafted for the recipient.
With these strategies, you're not just selling products; you're creating an experience that customers will remember long after the Black Friday rush has passed.
For more cool ideas on how to skyrocket your sales & help implement them, reach out to our friendly team at CoSpark, your number-one team of Woo experts.