Mailchimp is a marketing automation platform designed and developed for businesses using email to reach out to their target markets.
It is an all-in-one tool where you can manage your mailing lists, create custom email templates, and nurture and automate your entire marketing campaigns. Enterprises looking to leverage email marketing need a tool, such as Mailchimp, to run their campaigns like a well-oiled machine.
In this post, we will discuss in detail the importance of email marketing and what Mailchimp does. We will also outline the distinctive features of Mailchimp to highlight why an enterprise needs this email automation platform for its email marketing requirements.
Why Email Marketing?
Email marketing is an effective way for organizations to run extensive and worldwide promotions without stressing their marketing resources. Despite the popularity of social media marketing, email is still an effective way to promote business, acquire new customers and retain the existing ones. Many stats and figures prove that email possesses a lot of marketing potential, and businesses should never overlook it as a viable means for expanding the consumer base, strengthening the brand, and improving revenues.
These stats highlight the importance of email as a marketing tool. A business looking to conquer the digital space can't do it without making the most of email marketing.
What Is Mailchimp?
Mailchimp is a comprehensive email marketing platform that fulfills all your requirements of email correspondence with customers, affiliates, and other stakeholders. Unlike many other all-in-one marketing and automation platforms, Mailchimp is a web-based application. This means you can use it just like a website on any web browser without needing to download and install a heavy software program on your devices.
Apart from facilitating your email marketing with its logistical resources (mailing list management, template creation, segmentation, automation, etc.), Mailchimp also offers analytical features so that you can determine how you have been faring with your email.
Why Do You Need Mailchimp?
Email marketing is not just sending a bulk email to the target market and waiting for their response. An effective email marketing campaign has many ingredients and steps. With the features discussed below, Mailchimp can let you establish a well-thought-out email marketing regimen with good ROI.
Hassle-Free Campaign Designing and Launching
No HTML, CSS, JavaScript, or PHP expertise is needed to create customized email campaigns on Mailchimp. Mailchimp features an easy-to-use WYSIWYG web builder that lets you develop your campaigns from the front end without needing any coding knowledge.
You can choose from a list of features and basic readymade layouts for different email campaigns. Besides the layout of your choice, you can also use a range of themes for your emails without needing any backend designing (coding).
Mailchimp offers themes for all purposes and occasions. You can get a variety of readymade themes for your marketing and transactional emails for different subjects. These subjects include events, holidays, newsletters, notifications, and subscription alerts.
These resources enable businesses to have custom email templates even if they don't have in-house web developers.
Develop a Custom Template with Unique Coding
You can build a custom-designed Mailchimp template from scratch by using your own HTML code. Mailchimp has also made it quite easy to transport the HTML code to its custom builder. You can simply paste the code and execute the design. You can also import the zip file of the HTML code of your custom template or bring it directly from the website and process it into a design on Mailchimp.
Email Automation for Better Customer Experience
Well-thought-out and intuitive automation features are one of the biggest reasons behind the success of Mailchimp as an email marketing platform. They let you map out the entire customer journey (more on that later) through its automation triggers. Moreover, the automation feature is not exclusive to just marketing emails. You can also set automation for transactional emails, Google, Instagram, and Facebook ads, postcards, and coupons.
Mailchimp's automation feature is all about customizing user experience and fulfilling your targeted marketing (business) needs without needing an entire contingent of marketing representatives. Whether it's about sending a reminder to users about their abandoned carts or offering clients discounts on their birthdays, you can send relevant emails to relevant target groups without writing and sending every email individually.
The automation feature of Mailchimp comes in really handy for organizations that have a large contact list to deal with but have a very limited workforce.
Customer Journey Builder
Customer journey builder is one of the most useful additions to Mailchimp automation of late. It essentially enables businesses to devise an automated email-based sales funnel.  You can determine the process flows for different segments of the audience based on different triggers and how recipients respond to previous emails.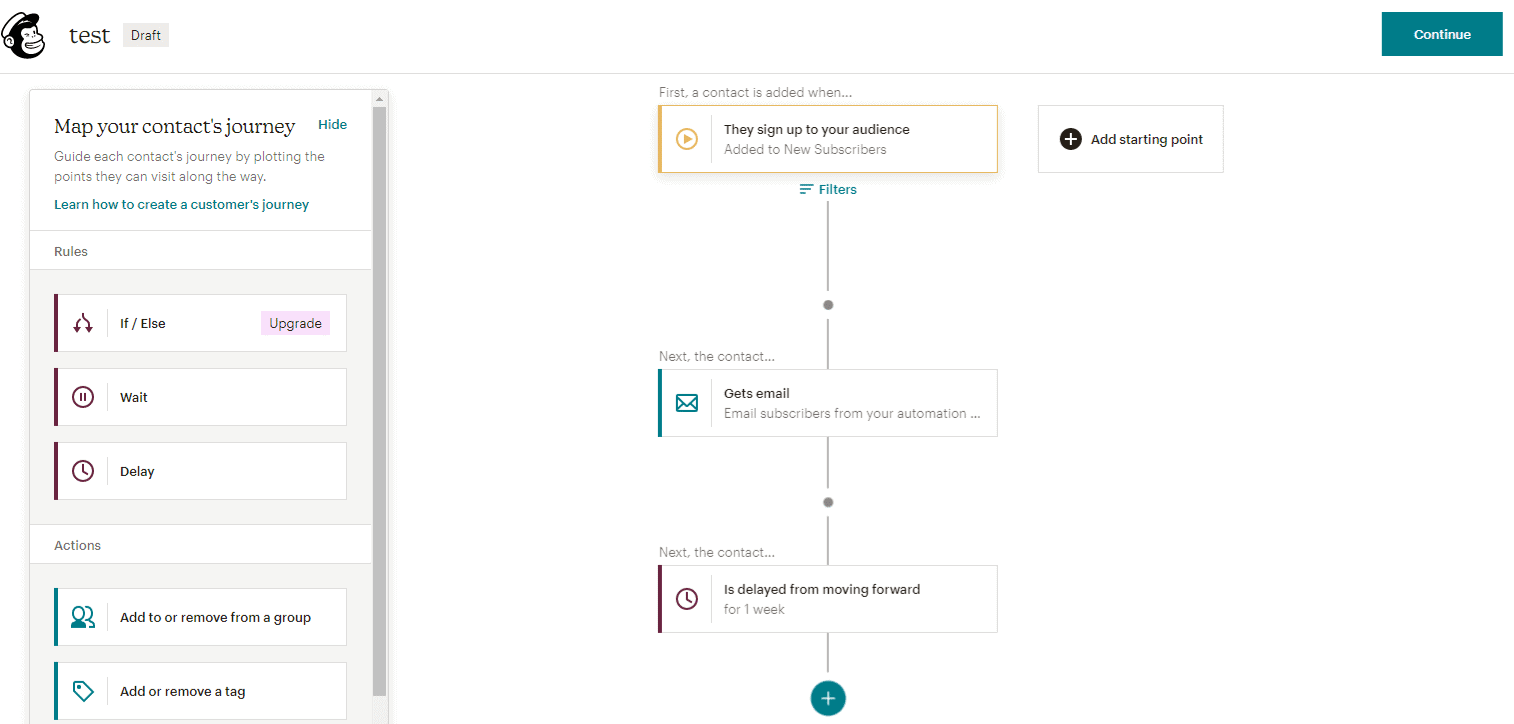 You can see in the above snapshots that this journey building is not a linear process flow that doesn't account for multiple conditions. You can use the conditioners of "if/else," "wait," and "delay" to map out a customized journey for different consumer groups. Similarly, you can add or remove the tags for the further finessing of the customer journey.
When you base your marketing campaigns on this customer journey builder, you can improve conversion rates and steer clear of spamming the recipients with your emails. The blueprint of a customer journey can be used as a benchmark for future campaigns as well.
Preview and Test the Email before Launch
HTML is a tricky code. The same HTML-based email can have different displays on different email clients, e.g., Yahoo and Gmail. A seasoned email marketer doesn't want to dispense their campaigns among the audience without previewing them first. Mailchimp lets you do that. It offers you to preview your email among more than 40 email clients across desktop, mobile, and web-based interfaces. You can determine the most popular email messengers among your target market and set it as a yardstick to test the design/layout of your email.
Previewing an email campaign for how it opens at the recipient's end before sending it to hundreds and thousands of contacts will make sure that your campaign doesn't get the required response due to any HTML glitch.
Use Geotargeting for Localized Email Campaigns
Running online marketing campaigns doesn't mean you want to target everyone on your global clientele radar. Many times businesses only want to target people in particular cities, states, and countries. Many email platforms miss this crucial requirement when developing an email marketing solution. Mailchimp caters to localized marketing requirements and enables organizations to segment their contact lists based on location.
Mailchimp carries out the geotargeting through IP addresses and doesn't target the exact physical location of the recipient. Moreover, the use of VPN among the contacts can affect the accuracy of geotargeting.
Create and Execute Marketing Campaigns on the Go
Mailchimp keeps up with the changing work dynamics. Contemporary entrepreneurs and marketers are not stuck to their workstations for the entire day. They move around very frequently and love to work on the go. Mailchimp caters to this corporate segment as well.
Mailchimp offers an Email Beamer option where users can put and execute a campaign on Mailchimp without needing to log in. They can use their personal and business email IDs to send the campaign to Mailchimp. This on-the-go feature can be used from the Manage Audience option. Mailchimp will provide you with a private email address where you can send your campaign from your personal ID.
Mailchimp Account Services send you a confirmation email and ask you to edit or proceed with the campaign. As soon as you reply to the confirmation email and gives the go-ahead, your campaign goes online. It is a great feature when you are traveling and want to execute a campaign at a very quick turnaround.
But what if you want to use all the Mailchimp features on the go? For that, you can download the Mailchimp app on your phone that's compatible with both Apple and Android devices.
Mailchimp Reports— Dissect Your Email Campaigns for Valuable Insight
Any type of marketing is an ongoing process. You get the insights from the already executed marketing plans and use them to improve your future campaigns. These insights also let you know about the success and failure of your campaigns in a more categorical manner. Mailchimp offers a very detailed dissection of your campaigns through its report. Here, you can find out in great detail how your campaigns perform through a range of interactive charts and graphics.
You can see in the above snapshots how Mailchimp offers an all-encompassing dissection of your email campaign on how it has fared. From finding out how your campaign is doing across the social media platforms and against competitors to determining open, close, and bounce rates— you can get a lot of valuable feedback from the software itself without needing any email marketing expert to assess and appraise the outcomes of your campaigns.
Track Your E-commerce Performance
The Mailchimp reports also let you track your e-commerce activity and performance. Through this tab, you can find out which recipient has bought what item from the connected e-commerce store(s) after opening your campaign.
Smart Intelligence-Based Suggestions
Mailchimp's propriety intelligence is not just another entry-level AI simulation. It uses more than two billion data points to offer a range of smart features. These features come in handy in creating optimized content and reaching the right audience. For instance, Mailchimp can automatically generate product recommendation content blocks based on best-selling and personalized customer preferences. Then, its Dynamic Content feature lets you create many personalized emails without working from scratch.
Purchase Likelihood and Customer Lifetime Value are two smart features that let you focus your energies in the right direction. Purchase Likelihood break downs your audience based on their likelihood of buying from you again. Similarly, Customer Lifetime Value highlights for you the high-value potential clients.
One latest addition to the Smart Tools of Mailchimp is the Subject Line Helper. It helps you in real-time to write email subjects that draw out customer response. Next Best Action is another intelligence-based feature that furnishes data-driven suggestions on how to improve campaign performance.
Marketing Preferences Center
Lastly, Mailchimp has introduced a Marketing Preferences Center and enabled businesses to offer a better customer experience. This center is essentially a profile hyperlink that will appear in the footer of the email campaigns you will send to the clients. By clicking this profile, recipients can choose what types of communications they like to receive from you.
Surveys
Surveys are an important part of email marketing. They are usually categorized as follow-up emails to the main marketing email. However, many businesses and marketing platforms miss this important ingredient of email marketing process flow. Mailchimp offers a really detailed survey tool in its latest version.  Apart from standard shopping experience surveys, you can use Mailchimp to have surveys for data-driven pricing insights, exploring product-market fits, and generating product ideas.
Build a Website without Web Developing Skills
Mailchimp has transformed into a holistic marketing automation platform. Its website builder is a testament to that transformation. Just like email layout and templates, Mailchimp lets you create a website without needing coding skills. You can easily create a multipage website and use predesigned color palettes and themes to customize it for your requirements.
You can also add a custom cookie banner on the website to comply with the relevant data rules. Mailchimp Website Builder also gives you a lot of freedom with its editing features. Besides picking from its 5-color palettes of different themes (playful, vibrant, balanced, etc.), you can create your own as well. Similarly, you can change the text color and typography of any content block on a webpage being built on the Mailchimp website builder.
Put Together Custom Landing Pages for High CTRs
The purpose of many marketing emails is to get recipients to click and end up on a landing page. The goal is to turn leads into prospects and turn prospects into customers. On Mailchimp, you can create your custom email campaigns as well as custom landing pages. You can pick themes for lead generation, list growth, product promotion, and payment acceptance, and tailor it in line with your products/services and marketing pitch.
Conclusion
Mailchimp, with all its automation, customization, and smart features, can prove to be a gamechanger for an organization trying to leverage email marketing. You can start off with a free Mailchimp account and move to premium plans as your marketing requirements grow. If you think that you already have too much on your plate and can't make the most of this email marketing automation platform, you can get seasoned Mailchimp developers on board.