You've likely heard of Mailchimp if you've been around the digital block for a while. But what exactly is it?
Mailchimp is a leading all-in-one marketing platform providing small and large businesses powerful tools to engage with customers.
Email marketing is an excellent way for businesses to share their stories, promote their products, and connect with their audience.
Mailchimp makes it easy to create eye-catching, effective email campaigns that can be customized to fit any business need.
There's a reason why Mailchimp is a key player in the email marketing landscape. It's more than just a tool; it's a powerful ally in your marketing strategy.
Mailchimp provides businesses with the resources they need to create engaging, personalized emails that resonate with customers and inspire action.
Why Choose Mailchimp?
With numerous email marketing platforms available, you may ask, "Why Mailchimp?" The answer lies in its user-friendliness and robust features. 
Mailchimp seamlessly integrates with popular eCommerce platforms like Shopify and WooCommerce, making it easy to sync your online store data.
This allows you to create targeted email campaigns based on your customer's shopping habits.
The Email Marketing Advantage in eCommerce
Email marketing effectively allows organizations to run extensive and worldwide promotions without stressing their marketing resources.
Despite the popularity of social media, email is still an effective way to promote business & get new customers.
Numerous statistics and data points highlight the significant marketing potential of email.
It's crucial for businesses not to underestimate email as a valuable tool for growing their customer base and increasing their revenue.
These stats highlight the importance of email as a marketing tool. A business looking to conquer the digital space can't do it without making the most of email marketing.
Core Features and Services
Your Own Campaign Manager
Managing different marketing campaigns can seem quite complicated.
That's where Mailchimp Campaign Manager comes in – it's like a master planner that smoothly organizes all aspects of your marketing into something effective with this amazing set of tools:
The Multichannel Calendar: lets you plot and track your marketing efforts across different platforms.
Comprehensive Campaign Reports: a single, intuitive report that offers an in-depth look at your marketing efforts' performance.
Send Day Optimization: provides data-driven predictions of when to best connect with your audience; it ensures your email messages hit the inbox immediately.
SMS Webhook Scheduling: this feature delivers your brand messages directly into your customer's pocket via personalized SMS messages.
One-Stop Marketing Shop: Unified Campaign Management
The Mailchimp Campaign Manager also enables you to manage various campaign elements under one digital umbrella.
Craft Related Emails tailored to your campaign goals for a captivating email mini-series. Incorporate Events like product launches or trade shows to generate momentum and marketing excitement.
With the Tasks feature, you can monitor everything that needs to get done for your campaign. It's like having an efficient digital secretary, keeping your campaign operations on track.
And with Webhooks, you can manage social ads, send Slack messages, and more. Think of it as your all-in-one marketing multi-tool, ready to tackle any campaign challenge.
Customizable Emails 
With Mailchimp, personalization meets creativity. Browse through a treasure trove of templates and tailor them to fit your brand's style.
Say goodbye to dull, one-size-fits-all emails and hello to a personalized communication era.
No HTML, CSS, JavaScript, or PHP expertise is needed to create customized email campaigns on Mailchimp.
Mailchimp features an easy-to-use web builder that lets you develop your campaigns from the front end without coding knowledge.
You can choose from features and basic readymade layouts for different email campaigns. Besides the layout of your choice, you can also use a range of themes for your emails without needing any backend design (coding).
Mailchimp offers themes for all purposes and occasions. You can get a variety of readymade themes for your marketing and transactional emails for different subjects. These subjects include events, holidays, newsletters, and subscription alerts.
Discover What Clicks with A/B Testing
Do quirky subject lines get more opens, or does a heartfelt sign-off do the trick? Mailchimp's A/B testing lets you explore what connects with your audience, such as subject line, content, send time, and much more. 
You can experiment with three variations for all paid plans at once. And for Premium users, there's multivariate testing, combining variables for even richer insights.
Here are some common ways Mailchimp users learn from A/B Testing Campaigns:
What day of the week gets better open rates?
Does including your company name in your subject line increase engagement?
Is it better to use your name as the from name or your company's name?
Are recipients more likely to click a linked image or linked text?
Do recipients prefer a campaign that contains a GIF or one with static images?
AI Content Optimizer
When you send email campaigns to your audience, Mailchimp can help you decide how to create and design your marketing content.
Mailchimp's Content Optimizer gives additional guidance with analysis based on industry best practices.
As you add content to your email, Mailchimp will suggest ways to help you improve your message. If it finds any issues, like a broken link or a merge tag, the AI Content Optimizer will mark them with an exclamation point icon.
Exclusive to Standard and Premium plans, it analyzes countless campaigns, compares your content to industry standards, and offers improvement suggestions.
Say goodbye to endless research and hello to insights at your fingertips.
Transactional Emails 
When timing is everything, rely on Mailchimp's Transactional Emails. These system-triggered notifications cover essentials like order updates, password resets, or abandoned cart alerts.
Mailchimp Transactional is a dedicated service ensuring critical emails cut through the noise and land in the right inboxes.
Mailchimp is the ultimate tool chest in email marketing, packed with functionalities to ignite your campaigns. It's more than sending emails – it's about curating experiences, fostering relationships, and propelling your business success.
The Automation Advantage
Long for an email marketing magic wand? Say hello to Mailchimp's automation. This game-changer emails your customers while you focus on other critical tasks.
No more drafting and sending each email manually; now, pre-schedule them in advance, saving time and boosting productivity.
Chart Success with Customer Journey Builder
Mailchimp's Customer Journey Builder is the magic map guiding your customers through their interactions with your brand.
Design an automated email-based sales funnel, tailor it to various customer segments based on triggers and responses, and ensure an adaptable, meaningful customer journey.
Adjust the process with conditioners like "wait" or "delay," add or remove tags, and avoid flooding your customers with unwanted emails.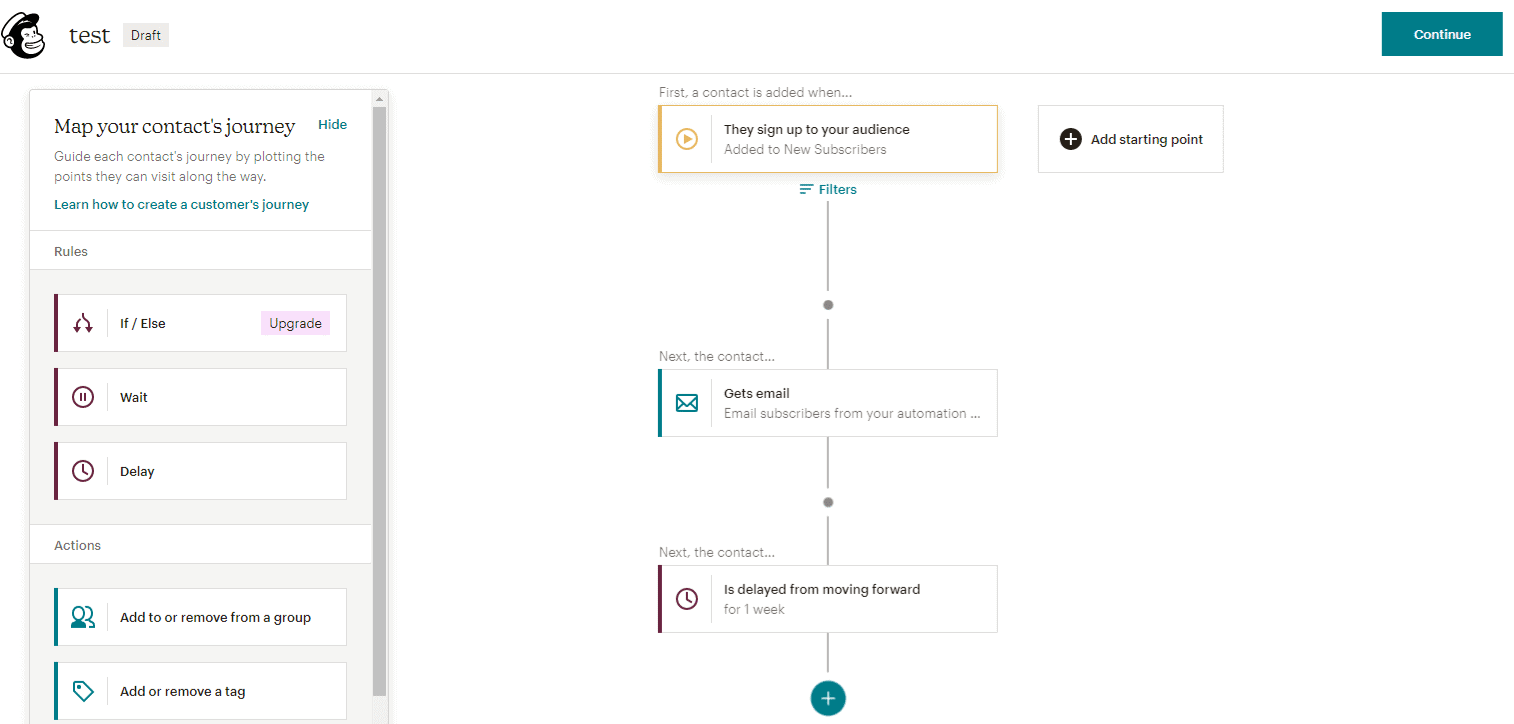 Sounds overwhelming? Don't worry. Mailchimp's library of over 60 pre-built journey templates makes getting started a breeze.
You won't have to begin from scratch when welcoming new contacts or constructing more complex journeys. Mailchimp's email automation is your secret to a transformed email marketing strategy.
The Power of Mailchimp's API
Experience the power of Mailchimp's API that elevates you from just a user to a proactive developer.
Seamlessly weave Mailchimp's robust features into your bespoke applications, automate tedious tasks easily, and mine valuable insights from your data.
Audience Management: Turn your static audience list into a dynamic asset. Manage your mailing lists, update subscriber details, or efficiently segment audiences based on selected criteria.
Campaign Management: Delegate managing campaigns to the API. From drafting to sending, scheduling to reporting, automate every step with precision.
Automation: Mailchimp's API offers automated workflows. Trigger a message when a subscriber joins a segment or makes a purchase – it's simple.
Reporting and Analytics: Unearth insights from campaign reports and performance metrics such as open rates, click-through rates, and subscriber activity. Integrate these insights into your reporting systems or refine your strategy.
E-commerce Integration: If you're on Shopify or WooCommerce, the API integrates your customer data, purchase history, and order details, marrying your email marketing and e-commerce endeavors.
Customization: Paint your marketing canvas with Mailchimp's API. Craft custom signup forms and personalized campaigns, and integrate Mailchimp's functionalities into your systems.
Get your API key from your Mailchimp account to gain access to these features and let Mailchimp's email automation amplify your email marketing success. 
If you want to be safe than sorry, best read the practices from our article on how to Make the Most Out of Mailchimp's Automation Features. 
Audience Engagement
Get the best email marketing with Mailchimp's comprehensive suite of audience engagement tools.
These thoughtfully designed features help you reach out to your audience, understand their needs, and build long-lasting connections.
Import and Organize Contacts Like a Pro
Mailchimp understands that managing your contacts is the key to a successful campaign.
Therefore, it offers a swift and seamless Contact Import feature that simplifies onboarding your existing contacts. But it doesn't stop there. Its intuitive system lets you organize and target your contacts with tags, keeping your database neat and hassle-free.
Captivating Signup Forms 
Expanding your audience base is effortless with Mailchimp's array of signup form tools:
The Form Builder lets you create, customize, and translate forms and response emails that align with your brand identity.
The Embedded Forms can be incorporated directly into your website or blog, turning every visitor into a potential subscriber.
With the Subscriber Pop-up, you can design enticing signup forms that can be placed anywhere on your site.
Moreover, the Contact Form feature ensures your customers can reach you conveniently.
If you already use specific software tools, Mailchimp's Form Integrations enable you to create signup forms directly within those platforms.
Target With Segmentation
Imagine reaching the right people at the right place and time. Mailchimp's Segments feature brings this concept to life, allowing you to target contacts based on location, engagement, and activity.
Whether aiming for localized marketing or targeting only engaged subscribers, the segments tool simplifies this process.
However, remember that Mailchimp's geotargeting is done through IP addresses, which don't target the exact physical location. Additionally, contacts using VPNs could slightly impact the precision of this feature.
Unlock Insights with Surveys
Peek into your customer's mind with Mailchimp's dynamic Survey tool.
Whether you're after follow-up feedback, data-driven pricing insights, or testing product-market fit, Mailchimp offers detailed survey capabilities.
By incorporating surveys into your email marketing flow, you're not just sending emails but building conversations.
Custom Landing Pages for High CTRs
Many marketing emails aim to get recipients to click and end up on a landing page.
The goal is to turn leads into prospects and turn prospects into customers. On Mailchimp, you can create custom email campaigns and landing pages.
You can pick themes for lead generation, list growth, product promotion, and payment acceptance and tailor them to your products/services and marketing pitch.
Comprehensive Analytics
Running successful email campaigns can often feel like trying to hit a moving target.
A large part of the challenge lies in understanding the performance of your marketing endeavors, using that understanding to refine your strategy, and making informed decisions.
Dissecting Campaigns for Invaluable Insights
Imagine having a bird's eye view of your email campaigns' impact across the digital landscape, from social media to competitor analysis.
Mailchimp's reporting system transforms raw data into digestible and interactive charts depicting your campaign's performance.
You'll be able to understand your email marketing effectiveness from multiple angles—from open, close, and bounce rates to how well your emails resonate with the audience.
This level of detail can save you the cost of hiring an email marketing expert to analyze your campaigns, as Mailchimp performs a thorough audit and assessment.
E-commerce Tracking Made Simple
If you run an e-commerce store, Mailchimp steps up as a valuable ally. Its reporting features enable you to track e-commerce activity and performance.
Connecting your online store with Mailchimp lets you see which recipients are engaging with your campaigns and making purchases.
This invaluable insight can help you identify what's working and refine your strategy for better outcomes.
Smart Suggestions Powered by Advanced AI
Don't mistake Mailchimp's propriety intelligence as a run-of-the-mill AI.
Utilizing over two billion data points, it offers intelligent features designed to aid you in creating optimized content and reaching your target audience.
For instance, Mailchimp's Dynamic Content feature can generate many personalized emails. In contrast, the AI-driven product recommendation system generates content blocks based on best-selling items and individual customer preferences.
Mailchimp also provides tools like Purchase Likelihood and Customer Lifetime Value that can guide your marketing focus.
These tools help segment your audience based on their buying potential and highlight high-value clients.
A recent addition to Mailchimp's intelligent tools, the Subject Line Helper, offers real-time assistance crafting compelling subject lines, significantly boosting open rates.
Also, the Next Best Action feature provides data-driven suggestions on ways to enhance your campaign performance.
Dynamic Website Builder
Feeling intimidated by coding? Mailchimp's website builder equips you to craft a professional, multi-page website that mirrors your brand identity without coding expertise.
This accessible tool puts you in control, letting you design a website tailored to your specific requirements.
Mailchimp offers various pre-designed themes and color palettes, from vibrant to sophisticated options.
However, you can carve out your path by crafting a custom color scheme that effectively communicates your brand's narrative.
Recognizing the significance of regulatory compliance, Mailchimp provides an easy-to-use tool for embedding a custom cookie banner on your website, simplifying the process of complying with data protection laws.
Apart from choosing from a diverse range of color palettes and themes, you can modify each content block's typography and text color, making every webpage a distinct part of your online brand personality.
Navigating Your Store Setup
Are you ready to launch your first product? Get the ball rolling with Mailchimp!
Upload your item, and Mailchimp will automatically create beautiful, user-friendly store pages for your website. Picture this: a sleek, professional online storefront showcasing your products, all done with just a few clicks.
Wait, there's more. Do you know what every successful store needs? A trusted payment gateway.
With Mailchimp, you can effortlessly connect your Stripe account to receive payments from all major credit cards. Your store isn't just stylish and a secure platform for customers to shop their hearts out!
One more thing, we know that communication is key in any business. That's why, once your store is set up, Mailchimp will automatically handle the logistics of customer emails for you.
From order confirmation to shipping notifications, and even the all-important abandoned cart reminders, Mailchimp's got your back. Say goodbye to manual tracking and hello to hassle-free automation!
Mastering Appointments Management
You've mastered the store; now let's conquer appointments!
As soon as you add your first service, Mailchimp takes it from there. It will create and publish a service listing page for your site in no time.
Just picture your potential clients browsing through your services, seamlessly booking appointments from your website. Its service and efficiency rolled into one.
Brand Uniqueness through Domains 
In the bustling digital landscape, carving a unique brand identity is crucial. Mailchimp's domain features deliver precisely this.
Explore the trio of powerful tools at your disposal:
Custom Domains: This tool lets you obtain a custom domain that perfectly encapsulates your brand. Already own a domain with Mailchimp? Manage them effortlessly using this feature.
Email Domains: This feature takes charge of your emails' delivery via Mailchimp by verifying and authenticating your domain, assuring your emails avoid spam traps and reach your customers' inboxes directly.
Connected Domains: It empowers you to link your existing domain, granting your landing pages and website an elevated professional feel.
In essence, Mailchimp's domain features aren't just tools but strategic assets aiding you in sculpting and refining your digital footprint.
Manage Your Content
Mailchimp's Creative Assistant
Your 24/7 branding wizard scans your website, gathers color schemes, font types, and images, and identifies logos to build a unique brand kit.
Aimed to revolutionize your branding efforts, the Creative Assistant infuses creativity into your campaigns without any design skills required from your side.
It employs insights from your website and landing pages to craft stunning multichannel designs mirroring your brand style. All it asks from you is your website address and brand assets to weave its magic.
Accessing this dynamic assistant is a cakewalk. Whether through the Content Studio, email builder, landing page builder, or even while drafting a social post or a tailored Customer Journey email – it integrates effortlessly into your workflow.
The File Directory
Think of the File Directory as a vibrant reservoir of your marketing materials.
It organizes your images, documents, and more – all primed for use in your campaigns. No more sifting through a cluttered hard drive for that perfect product image for your newsletter. In the File Directory, everything is systematically arranged and a few clicks away.
Templates Directory
The Template Directory is your cache of ready-made layouts to be the backbone of your marketing campaigns.
From newsletters and announcements to product launches, there's a template ready to narrate your brand's tale. It's flexible, too, offering customization options to align with your unique brand identity.
Integrations
Mailchimp offers many integrations that allow you to connect the tools and services that power your business.
By integrating Mailchimp with other tools, you can enhance your marketing efforts, improve data synchronization, and provide a seamless experience for your customers.
Some common integration scenarios include:
E-commerce Platforms
Mailchimp integrates with popular e-commerce platforms such as Shopify, WooCommerce, Magento, and BigCommerce.
This integration allows you to sync customer data, purchase history, and order information between your e-commerce platform and Mailchimp.
You can create targeted campaigns, send personalized product recommendations, and track the effectiveness of your email marketing campaigns based on e-commerce data.
Customer Relationship Management (CRM) Systems
Integrating Mailchimp with CRM systems like Salesforce, HubSpot, or Zoho CRM enables you to keep your customer data synchronized and up to date.
You can automatically add new subscribers to your CRM, segment your audience based on CRM data, and track campaign performance within your CRM system.
Social Media Platforms
Mailchimp integrates with social media platforms like Facebook, Instagram, and Twitter.
You can connect your social media accounts to Mailchimp and share your campaigns directly on these platforms.
This integration helps you extend your reach, increase engagement, and grow your audience across multiple channels.
Landing Page Builders
Integrating Mailchimp with landing page builders like Unbounce or Leadpages allows you to capture leads and add them to your Mailchimp audience seamlessly.
You can create customized landing pages, collect subscriber information, and trigger automated email campaigns to nurture your leads.
Analytics and Reporting Tools
Mailchimp can be integrated with analytics and reporting tools such as Google Analytics or Google Data Studio.
This integration helps you track the impact of your email marketing campaigns, monitor website traffic, and measure conversions.
You can gain insights into subscriber behavior, campaign performance, and ROI.
These are just a few examples of the many integrations available with Mailchimp.
Whether you want to connect your email marketing efforts with your existing systems, automate workflows, or enhance your marketing stack, Mailchimp's integrations provide the flexibility and versatility to meet your business needs.
Conclusion
Mailchimp is a game-changer for your organization. Imagine having a platform that grows with your needs, from free initial usage to premium plans that offer endless possibilities.
However, as soon as you decide to start using Mailchimp, we recommend you take the advice from our eCommerce experts at CoSpark regarding Common Pitfalls to Avoid When Using Mailchimp.
But wait, there's more! You're swamped and need a hand? Experienced Mailchimp developers are just a click away, ready to ensure you unlock the full potential of this automation marvel.
So, why wait? Dive into the world of Mailchimp today and discover the incredible power of tailored automated email marketing.