Email marketing is one of the most powerful and most cost-effective marketing channels that exist, and according to a 2019 report by the DMA, it has an average return on investment of $42 for every $1 spent. If you hope to sell your products online, then you definitely need to make use of email marketing. Mailchimp is one of the most popular email service providers due to its ease of use and the sophistication of its features.
There are many ways Mailchimp can help you promote your brand and grow your business. Here are some of them:
Automate your work
Mailchimp helps you automate some recurring aspects of your email marketing efforts so you can use your time and energy for more productive work that will help grow your brand/business. This can range from scheduled emails to automated follow-up emails that are triggered by a specific activity.

A great example of this is using informative, automated product follow-up emails to keep customers connected and updated – this can also increase your customer retention rate. Another great example is, if you run an eCommerce store, you can increase your customer retention rate, customer engagement and click-through by combining product recommendations with abandoned cart follow-up email.
Using Mailchimp's reports and analytics feature, you can gain deeper insights into your subscriber's behavior and further streamline your automation to drive better results.
However, as efficient as automating your email is, it's really easy to lose the human touch or uniqueness of your brand's voice and tone that you've worked so hard to hone and end up sounding like a corporate robot. As you scale your automation, do well to scale your brand's voice or you might end up losing your audience.
Grow your audience and customer base
You definitely want to grow your audience and customer base so you can make more sales, and Mailchimp can help you do that. Using Mailchimp's Lookalike Audience Finder and Ad Builder features, you can run ads targeting people on Facebook and Instagram using these different options – New people, Contacts, Custom Audience or Website Visitors.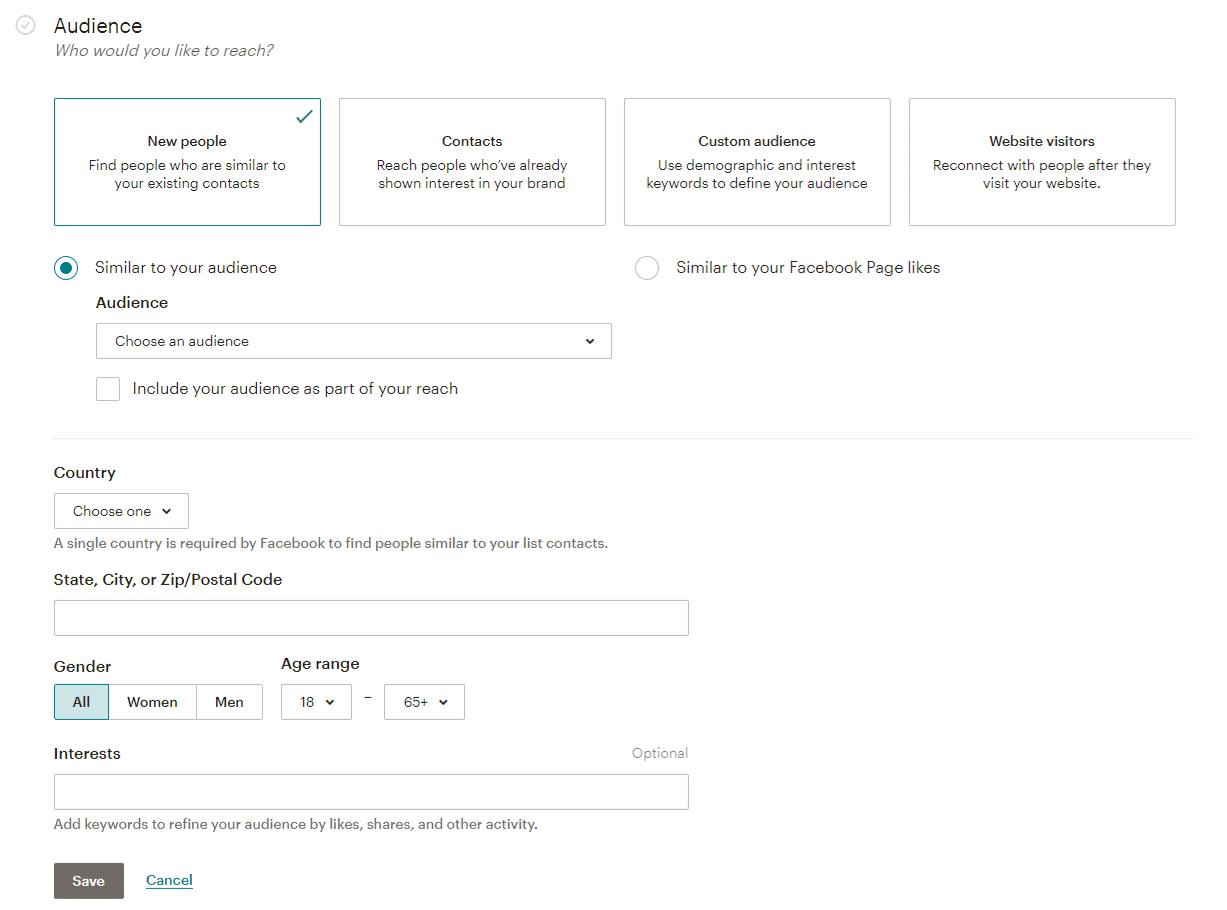 The New people option allows you to target people who are similar to your existing subscribers and/or those that like your Facebook page. The Contact option acts like a retargeting tool of some sort as it allows you to target a segment of your contacts on your subscriber list or people who have at one point, shown interest in your brand. The Custom Audience option lets you create your target audience based on criteria like age range, location, gender, and interest keyword. The Website Visitors option allows you to reconnect and recapture the attention of your potential customers who have visited your site or landing page.
These Facebook and Instagram Ad targeting options provided by Mailchimp help you in increasing your reach and growing your audience.
Another powerful feature that Mailchimp offers that can help you grow your audience is the Landing Page Builder. The Landing Page Builder allows you to design beautiful landing pages that your ads will redirect to so you can either collect information about your customers, or you can direct users to the next step.
One other powerful feature that Mailchimp offers is Pop-up Forms. Pop-up forms can be easily embedded in the pages of your website and they allow you to collect information from your website visitors (which includes their email) in exchange for a "bribe". The "bribe can be in the form of an informative guide, a discount to your product, etc. 
Of course, these have to be backed up with follow-up emails to keep your audience engaged and coming back for more.
Gain deeper and more valuable insights into your customers' behaviors
With Mailchimp, you can keep your audiences in one list and categorize them into groups or segments, or by adding Tags to their contacts. Having these different categories allows you to gain deeper insights into your audience's behaviors, and you can use that insight to create targeted messages to the different categories of your email list, which means you'll be investing in the right segment of your audience at the right time.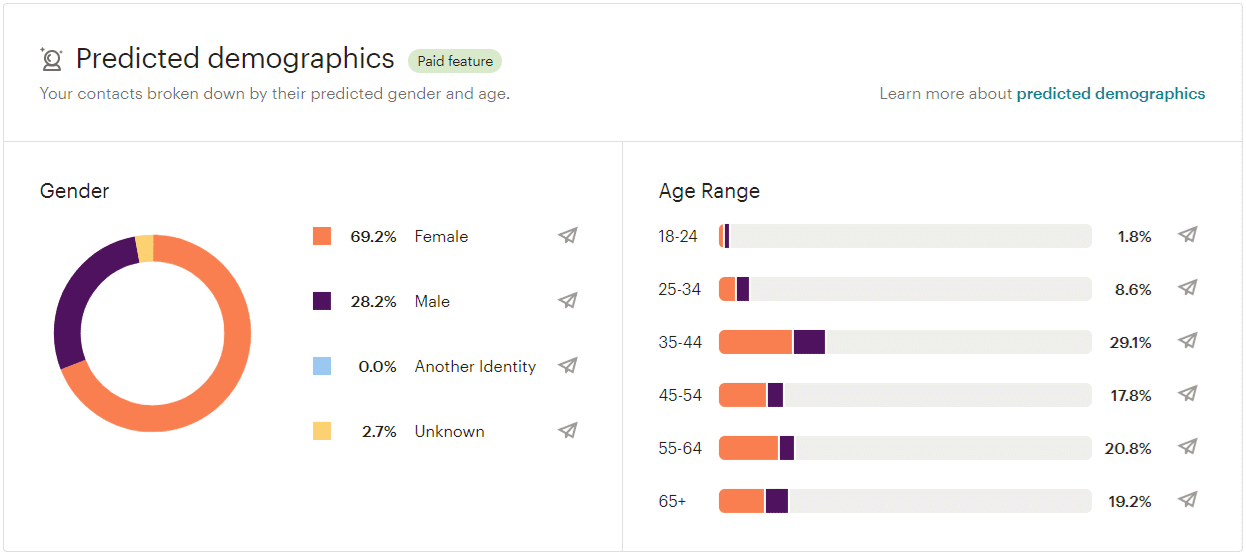 Mailchimp also offers a Predicted Demographics feature that uses data science to predict the age and gender of your audience. The Predicted Demographics feature can help you identify the key qualities and characteristics of your audience and this can inform your marketing strategy.
With an informed marketing strategy, you'll see an increase in engagement of your audience since you'll be sending information that your subscribers actually want, rather than just throwing out a random message to your subscribers and hope that they respond favorably.
Optimize your marketing strategy
Mailchimp helps you optimize your marketing strategy, and there are numerous ways it does that.
One of the features that help you optimize your marketing strategy is the A/B Testing feature. With the A/B Testing feature, you can test two slight variations of your marketing messages like the subject line, the time of the day to send, the call-to-action, etc to see which one produces a better result.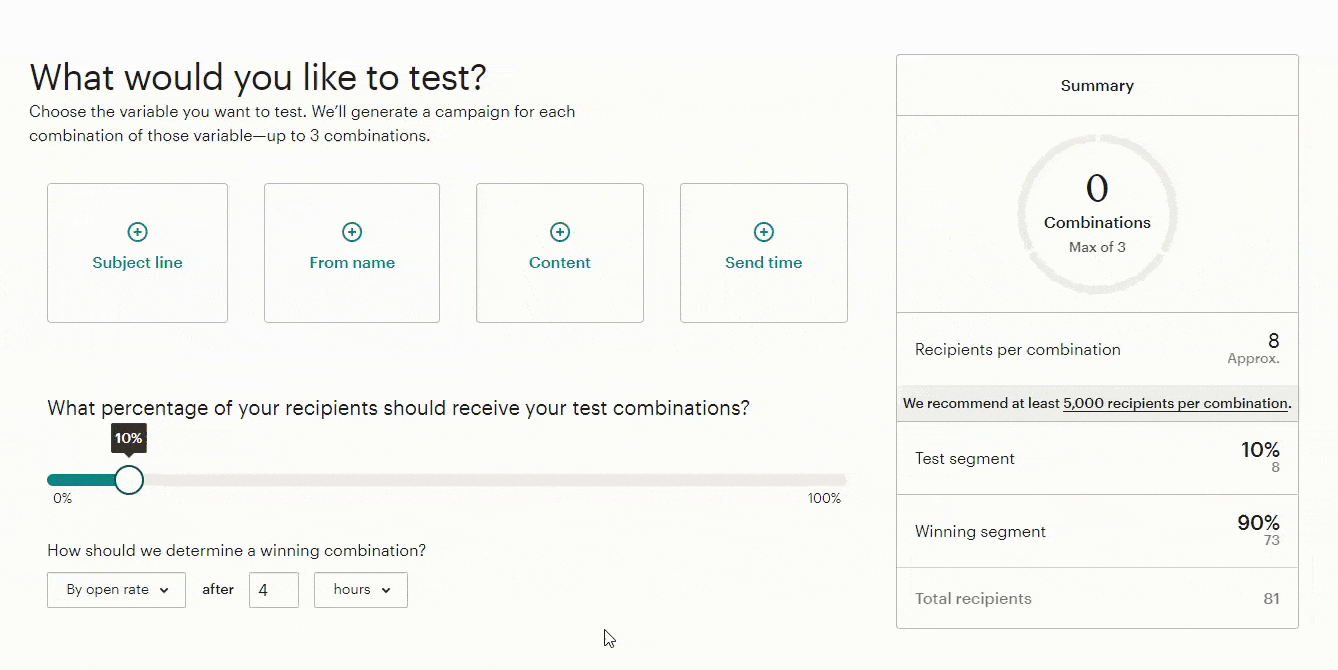 A complementary feature that also helps is the ability to save your email campaigns as a template. This is extremely helpful since your email marketing effort is more of an experiment and having the ability to save your successful campaigns helps you to quickly set up and replicate such success in your future email marketing campaigns.
If you're subscribed to the unlimited sending plan as every active marketer should be, Mailchimp offers you a feature that allows you to replicate your email campaign and send it to your subscribers who didn't open your emails. This can serve as a reminder to your subscribers who didn't read your emails.
This is by no means an exhaustive list of all the numerous features that Mailchimp provides to help you promote your brand and grow your business. You can, however, take what you've learned here and implement in your business so  you can start seeing results.